Damnit Beavis!!
Ladies and gentleman, especially ones about my age, Beavis and Butthead are coming back!!
MTV broke the news that the World's most beloved idiots will be returning next Summer with the cast of their new, extremely controversial show, "Skins." It has been said that the show has been dropping sponsors left and right because of the controversial subject matter on the show. A.K.A. a bunch of un-talented teenagers who can't act for shit, bangin each other and talkin about bangin each other, but I believe that the sponsors obviously pulled out because they saw the previews! There are plenty of sexually explicit shows on TV, the sponsors pulled out cause the show sucks! We know the sponsors of the show are "pulling out," the question is, are the teens on the show doing the same??
Justin Bieber has also helped spread the word of the show's return on Twitter. Which begs the question…was this young'n even alive when this show was on?? The show ended in 1997! How old was he? Three?? Anyway, it's good news for MTV that Biebs is spreading the news to his massive following of pre-pubescent teenie boppers who are to busy threatening to kill Kim Kardashian and all the other chickies who are posing in pictures with him, to watch Beavis and Butthead anyway…
Anyway, I AM old enough to remember the show, and I loved it. I read online that the show will still use the same format it used to use, including the dynamic duos unforgettable critiques of music videos. There in lies the problem! In order for that to happen, MTV WOULD HAVE TO ACTUALLY PLAY MUSIC VIDEOS!! Which WE ALL know they don't do! So artists, keep making your videos, you can count on Beavis and Butthead to get them air play!
I haven't watched MTV in MONTHS, so the reboot of this show will actually allow me to re-visit this channel after I wipe the dust off of the numbers on my remote that make up the channel for MTV.
Why is MTV allowed to keep the name, "Music Television?" They NEVER play any damn music!!! I am far more concerned about their false advertising than I am Taco Bells 35% beef shenanigans…
Can't wait for the return of Beavis and Butthead! So MTV, PLEASE don't fuck it up like you do everything else!
MARILYN PIC OF THE DAY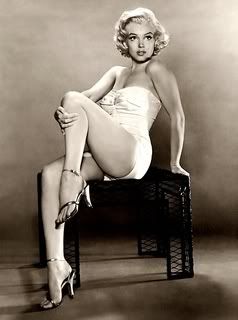 Short URL for this post: http://tmblr.co/Zy2uux2vpL7D