How I would Fix NASCAR
 The failing United States economy has hit many sports hard. However, it has hit NASCAR harder than almost any other. The folks who run NASCAR are very stubborn and in mant ways refuse to break away from tradition. They have, however, eased up on their traditional stances and stubborness in the last few seasons.
Fans complained when the Car of Tomorrow debuted, that it no longer looked like a racecar, because of a huge wing they had put on the back of the new cars. After a couple of years of listening to drivers and fans complain about the looks of the wing, NASCAR finally got rid of it.
The looks of the car were also greatly affected by the new front bumper that seemed to barely be hanging there. It was hideous. NASCAR replaced it, and finally for the first time in several years, NASCAR lost that hideous configuration of a front bumper, and now the current cars these drivers are piloting around the track, ACTUALLY look like cars again.
Just a few years ago, you ABSOLUTELY COULD NOT get tickets to a NASCAR event even a month in advance. They were sold out! There was no need to even bother calling for tickets! But now, a dozen hours before the biggest, most important race in the world, you can STILL get tickets!! Each of the two Bristol races used to be sold out YEARS in advance. Now? Call up the ticket office and I GUARANTEE you will be able to get tickets to both of those races. You can blame it all on the economy all you want, but the same economy is in place for the NFL and they sell out their games and continue to have the highest rated product on television. Now, I will break down for you guys the reasons that NASCAR has been struggling the last few years, as well as how I think think they should go about fixing them.
REASONS THEY ARE STRUGGLING:
Their most popular driver hasn't won in 2 1/2 years- In case you are livng on the moon, NASCAR's most popular driver is Dale Earnhardt Jr. Not only has Junior not won, he has BARELY even contended. Can you imagine how much Major League Baseball would suffer if the New York Yankees and Boston Red Sox were both AWFUL teams? Don't you think it would hurt the NFL at least a little if the Dallas Cowboys and Pittsburgh Steelers both failed to make the playoffs for a few seasons? What if the Los Angeles Lakers, New York Knicks, and Boston Celtics played like the Cavaliers, Nets, and Timberwolves for a few years in the NBA? The bottom line is, NASCAR would be FAR better off if Dale Earnhardt Jr. were frequently winnning races and contending for championships year in and year out.
The races are WAY to damn long- Most NASCAR races last a little over 4 hours. That's about a third of the average Americans day
The season is too long- Why is the NFL the most famous and watched sports league in the world? SIMPLE. Their schedule is only 16 games, so EVERY SINGLE GAME MEANS SOMETHING! People tune in like hell to see what happens. NASCAR's season, on the other hand, spans an incredibly long 36 races, from February to November. If you miss a few races, no big deal. There are PLENTY more. The offseason is only two months, so before you even have a chance to miss it, it's right back on.
THE CHASE- Not the format or system itself, just it's terrible execution. People bitch like crazy about "The Chase," but I have no idea why. EVERY major sports league has a Playoff system, NASCAR was just a little slow arriving to the party. Once again, the problem IS NOT "The Chase," the problem is how it is executed.
The man who is dominating- The man who is dominating the sport by winning the last five championships, is not the most popular. He isn't even close really. But that isn't necessarily the entire problem. The rest of the problem is that he is also not the most hated. He is a nice guy and he is hard to hate. If you are going to dominate your sport and still have the sport prosper, you either have to be the most loved or the most hated. Jimmie isn't anywhere close to either. Jimmie is the equivalent of what it would be like for the Jacksonville Jaguars to win a few Super Bowls in a row. They aren't loved but they aren't hated. He isn't Dale Jr. and he isn't Kyle Busch.
THE SCHEDULE- More specifically, multiple races at extremely boring tracks. Honestly, who in the hell can get through ONE race at Pocono Raceway? Let alone TWO….
TOO MANY CARS IN THE FIELD- NASCAR ABSOLUTELY DOES NOT NEED 43 cars on the track. Let's be real, only 15 to 20 have any shot in hell of winning and the others are just in the way. Let's eliminate the clutter.
HOW I WOULD FIX THE NASCAR:
Unfortunately for NASCAR, the main thing that would help the sport is really, without them cheating, out of their control. They can't just give Dale Jr. wins and solid finishes in the championship standings. But I DO BELIEVE that the changing of the body style of the cars to make them more like the old cars will help Junior significantly. Keep in mind, of Junior's 18 career wins, 17 of them were in the old car. I think that way to much has been made of Junior not having Tony Eury Sr. as his crew chief and not getting the attention he should get at Hendrick Motorsports. Junior just HAS NOT BEEN ABLE TO FIGURE OUT THE CAR OF TOMORROW. Point blank. Period. Also, nothing but good can come of Junior being in the same shop as 5 time defending champion Jimmie Johnson and his crew chief, the mad scientist, Chad Knauss.
NASCAR should shorten ALL races to 350 miles or less. That's right you heard me. 500 miles is way to damn long, and anyone who has ever been to the Coca-Cola 600 can will tell you that 600 miles is DAMN SURE WAY TOO LONG!! Only the die hard fans can sit through an entire race. Almost everone I know watches the first 50 laps and the last 20 and gets what they missed in between from ESPN. I assure you that NASCAR would see both an attendance and ratings spike from knocking 150 to 200 miles off of a race and keeping ALL races to 3 hours and under. Let's not forget about all of the money that NASCAR will save on fuel and tires that will not be used in that additional 150 to 200 miles. People have shit to do. Simple as that.
Cut the schedule to 25 races. 15 regular season races and 10 chase races. Yes, I do realize that I am suggesting that NASCAR trim 11 races off of it's schedule. But I promise you, the ratings would seriously jump because then, every race would mean more. Drivers wouldn't have any races to simply "take off." Every race would mean more, every lap would mean more, and the fans would reap the benefits. Personally, I say the more races the merrier. But I am a die hard. Us die hards are going to watch no matter what! It's the people in the undecided section that NASCAR needs to draw in.
Narrow The Chase field back to 10 drivers, and switch up the tracks of the 10 Chase races EVERY SINGLE YEAR. Let's be honest, LESS than 10 drivers have a legitimate shot at the cup anyway. Also, there is a simple reason why Jimmie has won 5 consecutive titles….HE FUCKIN DOMINATES EVERY SINGLE TRACK IN THE CHASE FIELD. As long as he gets in The Chase, he will be right in the thick of it as long as The Chase schedule remains as is. EVERY other sport changes their schedule every year, why can't NASCAR?? Shake things up a bit, and Jimmie's advantage over everyone else will level out. At least a little. And NASCAR will reap the benefit of other tracks getting solid exposure, premotion and ticket sales that these other tracks getting a Chase race would bring them.
All of the things I am suggesting would in my opinion, lessen the chances of Jimmie Johnson or any other driver for that matter, "dominating" the sport.
Eliminate multiple races from EVERY track except Daytona and Charlotte, and move the July Daytona race to the last race of the season in place of Homestead. The season should end where it begins, at Daytona. Also the "anything can happen" feel of Daytona would certainly add excitement to the season's final race and determining our champion. We don't need multiple races at Michigan, Pocono, or any of the other tracks for that matter. Let's give Nashville a cup date, and bring back racing to Rockingham and North Wilkesboro. A track would be FAR MORE LIKELY to sell out if there were only one opportunity to see NASCAR there a year.
NO MORE 43 CARS. Let's narrow the field to 30 cars. Omce again, only about 15 cars have a shot to win, and these guys would drive a whole helluva lot harder to keep their jobs if there were only 30 spots in the field, and we the fans would be treated to ONLY the most talented drivers. NO MORE "START AND PARK!" PLEASE!
These are all things that I would personally do in order to make NASCAR more successful. If you have any ideas of your own, or opinions, hit me up!
MARILYN PIC OF THE DAY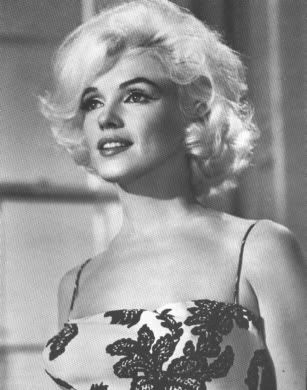 nosebleedhooligans said:

Agree on most, but the races are damned long because it's also about endurance, I think. I mean, unlike F1, there's no course to speak of. But you're right. Mainstream audiences are getting bored with this setup!

2brilliant2function posted this
Short URL for this post: http://tmblr.co/Zy2uux3AaF6m